Add spectacle to your staycation. Head down to the south and south west for some of the best UK dive sites!
We might be getting to the point here in the UK where last year's distant dream of diving in the warmth of tropical waters is getting oh, so close. But it's still that little bit too far away to make any firm plans. And we don't want you to lose out on your scuba diving experiences in the meantime just because luxurious locations such as the Maldives and Mexico are still on the 'red' list! Quite the opposite, in fact, with over 11,000 miles of coastline, and some of the best UK dive sites just waiting to be explored, what better time is there for an entire family staycation, or a short trip away by yourself in this country, than when there's little by way of distractions or glitzy foreign alternatives?
If you thought diving in the UK would be boring, with little to see beneath our slightly err 'cloudier' waters, I can honestly say you will be amazed. And with the opportunity to learn new skills right here on your doorstep, why not introduce the rest of your family to scuba diving too?
Imagine the difference it will make to your holidays when we are allowed to travel further afield if you have your loved ones joining your dives, rather than feeling guilty about leaving them on the beach, at kids' club, or even worse, you having to miss out altogether because of other planned family activities!! So, get them started before the world opens up once more, and you'll never look back.
I have written about five great sites in this country in an earlier blog. But just to prove it really is possible to enjoy a staycation AND up your diving hours with some amazing views and experiences, here's another five UK dive sites to add to your list. And if you can't strike a deal or encourage the family to take you up on a new challenge, then there's some awesome sightseeing and surroundings for them to visit too.
Brighton, West Sussex
Down on the south coast of England, Brighton, Shoreham, and Worthing might not be places you would naturally think of when it comes to scuba diving. The tourist experience in Brighton includes the Pavilion, Brighton Beach and the entertainments on Brighton Pier, The Lanes for quirky shopping, a great choice of boutique restaurants, and an amazing night life to enjoy.
But from a diving perspective, a wreck sitting at the bottom of eight to 12 metres of water, about one mile off Worthing Pier, is one of the most visited diving sites.
The Indiana Wreck is what remains of a British steam ship which sank in 1901 on a return journey from Sicily. Full of oranges and lemons, she collided with a German steam ship in foggy conditions. Although levelled soon after the collision, much of the vessel remains visible with numerous metal plates housing fish, crustaceans, conger eels and even large sea bass which are often seen in the summer months.
A vast array of colourful marine life, great surroundings, and plenty of other wrecks make this area of the south of England an absolute must if you're looking for fantastic UK dive sites and staycations!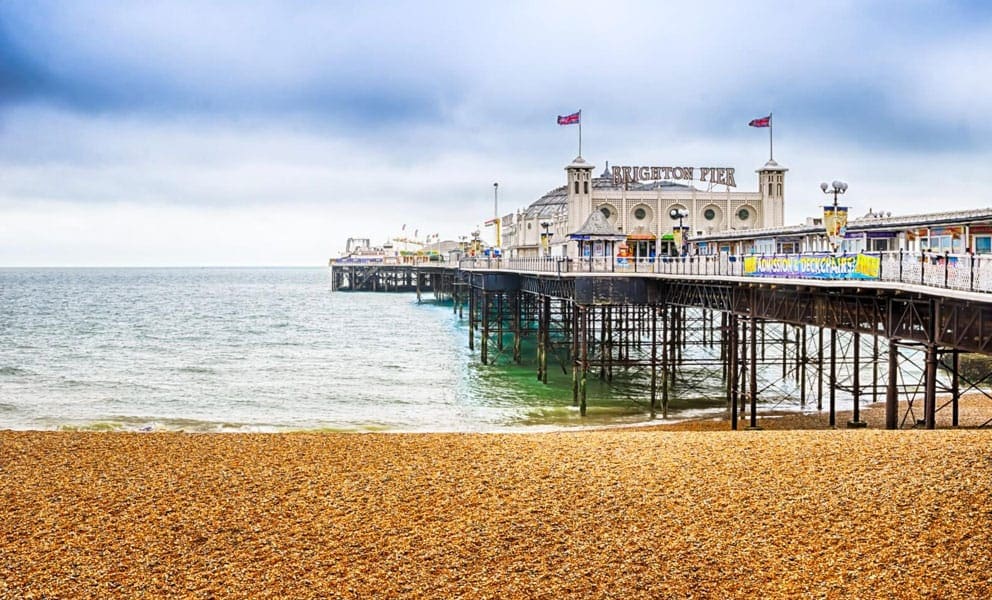 Falmouth Bay, Cornwall
Heading on down to the southwest, you will come across Falmouth Bay, which is a beautiful area for divers of all levels. Falmouth offers over 300 beaches - dog friendly and family friendly, so the rest of the family can relax if they're not joining you underwater!
You'll find an abundance of shallow and offshore dives on offer here, and some popular night dives for scuba divers and snorkelers too. Falmouth Bay is home to several ships which were towed there to be salvaged to clear them from the busy shipping lanes and have now created an amazing marine life to be explored.
Castle Beach and Pendennis are famous for WW1 submarine wrecks such as the Hera, suitable for beginners, with a vast array of underwater magic by way of sponges, dead man's fingers, fans, and you are likely to see cuttlefish, dogfish, and thornback rays at certain times of the year.
Stretching further across the South West Coast Path, the Helford River and Falmouth Estuary are firm favourites amongst UK dive sites because of the marine wildlife and wrecks. But just as popular for families not partaking in the diving experience with Areas of Outstanding Natural Beauty. Walking the coastal paths, enjoying picnics, and just revelling in fresh air in the most awe-inspiring scenery will make for a great all-round holiday.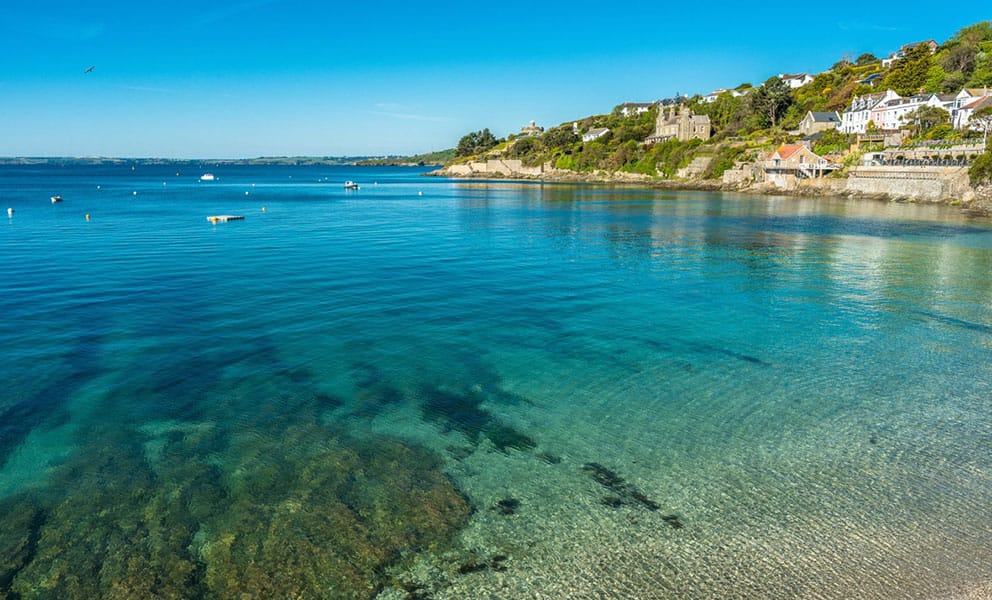 The Lizard Peninsula and Porthkerris
If you head down to the most southerly point in England, the Lizard Peninsula, you'll find some excellent diving opportunities with wrecks, reefs, and marine life in abundance. Depending on the time of year you choose to go, you could get to see basking sharks, porpoises, and bottlenose dolphins. But do take note of the guidance to ensure you get the best experience and avoid scaring the sea creatures with too much noise.
Porthkerris Reef is an extremely popular shore dive, with jewel anemones, starfish, sea urchins, and kelp. Suitable for all ranges of diving expertise with visibility ranging between 15 – 50 feet (five to 15 metres) and depths between 10 – 50 feet (three to 15 metres).
You'll also be gifted with various wrecks to dive in and out of. The Camarthan which hosts an abundant marine life in her 'nooks and crannies' but watch out for the tides. If you can catch the slack water, visit the Citrine, which now lies upside down at about 59 – 82 feet (18 – 25 metres). And with over 200 wrecks around The Manacles, this area will keep you happily distracted with spectacular underwater sights whilst the rest of your holiday party enjoy the landscape, sandy beaches, clifftops and of course traditional Cornish Pasties, Crumbly Yarg Cheese, and Clotted Cream Teas!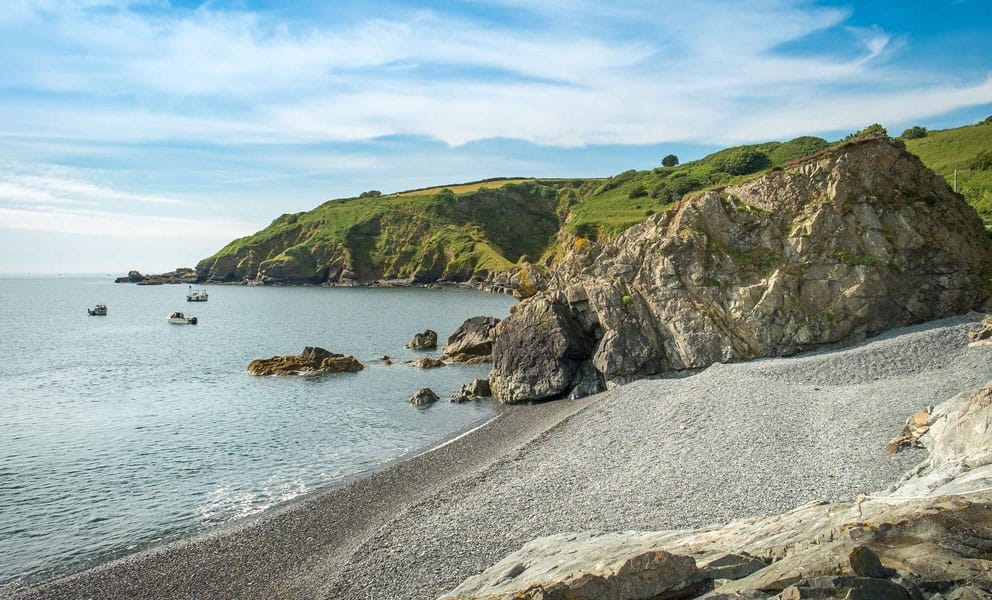 Pembrokeshire, Wales
Beachy shore dives, such as St Brides and Martins Haven, and numerous wrecks like the Dakotian (20 metre depth) and the Lucy and Drina at more challenging depths (40 and 60 metres) are to be found coming back up the west side of the country with the Pembrokeshire Coast National Park. A rich marine life exists around this area, along with the possibility of seeing blue sharks, dolphins, octopus, conger eels, lobsters, rays, starfish and much more.
Not only is the scenery and diving worth visiting, but also, the island of Grassholm is home to one of the largest Gannet populations in the world. And if you can get to The Smalls Lighthouse, you'll experience playful seals amongst the fabulous coastal seascapes.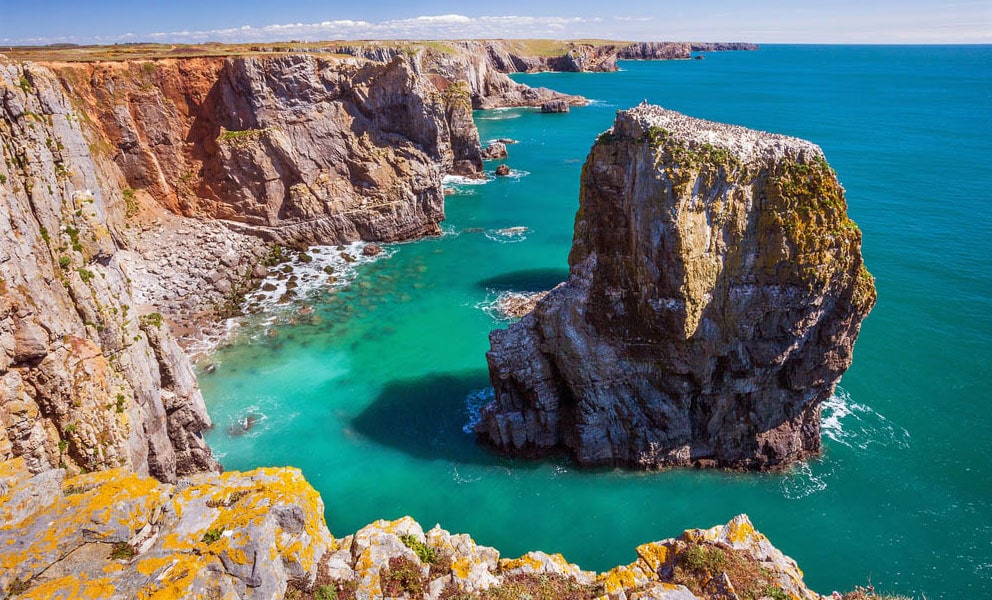 The Menai Strait
The Menai Strait separates Anglesey from the mainland, and hitting the water from the Menai Bridge, divers can experience drift diving in the tidal waters. With the movement here there is masses of anemones, feed sponges, and colours to amaze divers of every level.
The only downside here is that the tides can be quite strong, so it is advisable to take the plunge for the first time from a local dive centre, just to be safe and learn the best techniques. But once you're comfortable, then you'll be free to go and explore what the Welsh waters have to offer.
And if your buddies don't fancy diving with you, there is so much by way of history, ancient ruins, coastal walks, and remote beaches, they'll not be bored whilst you're admiring what they can't reach from the shore!
So, as you'll see, the Southern and South Westerly spots really do provide a win-win staycation. With shopping, sights, and scenery for all. And with some of the best UK dive sites for all levels of experience, it is not at all surprising that UK holidays are providing some quite unexpected inspiration and helping create memories to put the stresses and strains of 2020 far behind us now.
And finally ….
Don't forget, if you struggle with your underwater vision, we are here to offer guidance, expert advice, and the absolute best in prescription lenses for all your diving needs. If your children do decide to join you, we even have the most effective lenses for their little masks too, so nobody need miss out on phenomenal UK dive sites and some surprisingly memorable diving experiences. Call Dive Sight today for a friendly chat, and we'll make sure you really do make the most of UK diving, right down to the finest detail.